Throw & Go Professional cleans up water-based and hydrocarbon spills. It contains enough pumice to provide traction on hard surfaces. Throw and Go Professional is highly effective at accident scenes and all types of contamination spills, and is gaining popularity with fire departments and municipalities in the western states. One of the most appealing attributes of the product (besides its superior performance) is its strong resemblance to dirt, thereby drawing away attention from spills.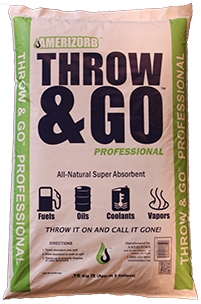 For fire & rescue professionals, public works departments, and those working indoor and outdoor on hard surfaces
Effective for spill clean-up and vapor suppression. Lays down easily in the worst of weather conditions. Provides traction to reduce chances of slip and fall.
Sold in .75 cubic foot bags or by pallets of 75 bags (discounted price)

MSRP: $29.95 FOB Warehouse

75 bag pallets are available at discount price per bag
Throw & Go Environmental is the absorbent designed for clean-up spills and contaminants on the ground or near water. This product is used by parks and recreation public works departments, PUD's, and those working out in nature. Throw and Go Environmental contains no traction material and is best suited for non-hard surfaces.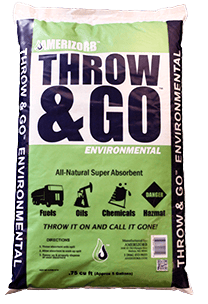 For parks and rec departments, and P.U.D.s, and those working with contaminants on the ground or in nature
Used on land to absorb petroleum, oil and chemical spills. Controls and mitigates spills in sensitive areas and situations. Minimal leaching.
Sold in .75 cubic foot bags

MSRP: $31.95 FOB Warehouse 

75 bag pallets are available at a discounted price per bag
THROW & GO SUPER ABSORBENT
The Throw & Go Super Absorbent contains extra abrasive material to provide maximum traction on floors and indoor hard surfaces. This absorbent is designed specifically for shop floors, garages and warehouses to prevent slip and fall accidents. It is not well suited for outdoor environments.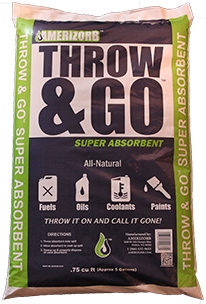 Throw & Go Super Absorbent is designed with extra pumice for maximum traction control in shops and indoor settings.
For maintenance shops, garages or at home. Absorbs fuels, oils, antifreeze, hydraulic fluid, and more quickly and efficiently. Cleans up easily. Contains extra abrasive material for maximum traction on floors.
Available in .75 cubic foot bags (approx. 5 gal) and on pallets of 75 bags.

MSRP: $27.95 FOB Warehouse. Discount on pallet orders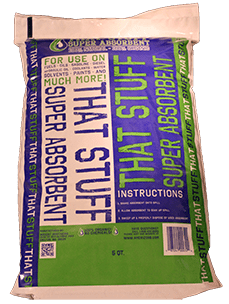 THROW & GO 5 QUART SPILL KIT BAG
Same ingredients as Throw & Go Professional, in a junior sized bag. Ideal for technician tool boxes, service vehicles and spill kits. 

Great for spill kits or truck inventory

Available in convenient 5-quart resealable ZipSeal bags
AMERISOCK
Packaged in a one cubic foot box with two, 6' socks
Custom lengths can be ordered up to 30' long
Filled with Throw & Go Environmental absorbent for maximum absorbing capacity
Floating socks available as a special order
MSRP

$48.50 (2 per box)
AMERIPILLOW
15" x 19" fuel only absorbent pillow

Filled with Throw & Go Environmental absorbent

Ideal for capturing large amounts of petroleum products

Currently used in spill kits at major trucking and fuel companies

MSRP. $78.00  (4 per box)
UNIVERSAL AMERIPILLOW
15" x 19" Universal pillow

Filled with Throw & Go Environmental absorbent for maximum absorbing capacity

Ideal for capturing large amounts of both water and petroleum-based contaminants

Currently used in spill kits at major trucking and fuel companies

MSRP $78.00. (4 per box)
CONTAINERS
Our 5-gallon buckets with twist-off lids seal in moisture and are easy to open and close

Convenient for your shop, maintenance sheds, fuel islands, or emergency vehicles

One bag of Throw & Go fits perfectly into a bucket

Allows you to use partial amounts of product without fear of a half-empty bag spilling over in your shop or vehicle

MSRP $20 per unit
Learn how you can get Throw & Go at no cost to your department